Search on Macs, for pretty much everything, from the Finder to Mail, to the contents of documents and even photos, is connected to the broader Mac search; both use Spotlight.
If Spotlight has become corrupted then you can rebuild it's search engine, as such:
Open System Preferences > Spotlight
Click on the Privacy tab
Click on the + icon (bottom left of the window)
Add the Macintosh HD to the list of locations to prevent Spotlight searching
Close the System Preferences
Allow 15 minutes for this next step, during which the existing data in Spotlight will be removed.
Next step:
Go back into System Preferences > Spotlight
Click on the Privacy tab
Remove the Macintosh HD from the list of locations
Close the System Preferences
NOTE: Spotlight will rebuild it's indexes, which will take a while, so allow time for this (could be up to a day).
Multi-factor authentication (MFA) helps to secure your Microsoft account by using an authentication method in addition to your password, to prevent hackers trying to access your account.
Once activated by your system administrator, it's easy to setup.
What you'll need
Before you begin, make sure you have:
A computer with an internet connection
A smart phone with an internet connection
An Apple App Store or Google Play account
1. Download the Authenticator app on your phone, but don't open it yet
From your phone

, open the Apple App Store or Google Play store and download the Microsoft Authenticator app
Keep it handy for the next step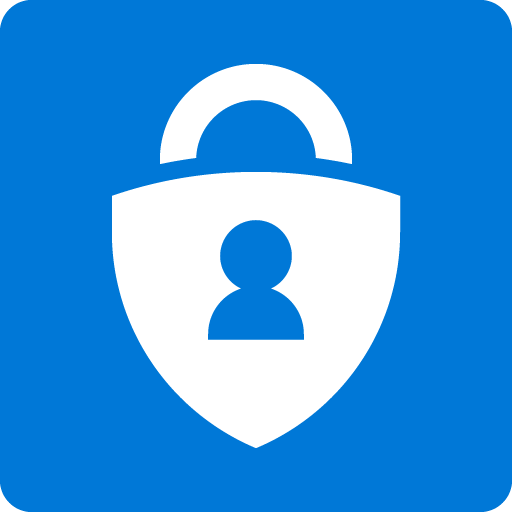 2. Log into the Microsoft Portal
Open a web browser on your computer (Safari, Chrome, Firefox, or Edge)
Log into the Microsoft portal - https://portal.office.com/
Enter your work email address and password to continue
You'll be asked to provide more information
3. Select how you'd like to be contacted
The Additional security verification window appears asking How should we contact you?
Select

Mobile app verification

This method doesn't rely on your mobile phone number
It works even if you're overseas

Select how you'd like to use the verification app

Receive notifications - this option is more convenient, as you only have to Approve a sign-in
Use verification code - this option is more secure, as you have to enter a supplied code

Click SETUP to continue
4. Configure the Microsoft Authenticator app
The Configure mobile app window appears

Open the Microsoft Authenticator app on your phone (you may need to allow the app to access the camera and send notifications)
You may have to agree to various terms before continuing
Select Scan QR code
Add your account

If you don't have existing accounts then click on Scan QR code
If you have existing accounts, then click the

+

sign on the top-right of the app

Scan the QR code shown on the browser
Once the scan is done press Next

You'll receive an approval request on the Microsoft Authenticator app on your phone, as a test
Additional steps

You may be required to enter a security code from your account on the Authenticator app
You may need to add your mobile phone number as a fallback
If asked, save the presented app password

Click Finished
Once successful, you'll be asked to confirm any login attempts to your Microsoft account
5. Re-enter passwords when asked
You'll be asked to re-enter your password on your various devices, and as part of this MFA authentication will be required.
Shared and Delegated mailboxes can be of tremendous use to an organisation, so knowing how to accessing them is pretty important.
What are they?
Shared Mailboxes
Shared mailboxes are commonly used when a staff member leaves and someone else in the organisation needs access to their existing mail, but wants to keep the other mailbox separate.
They can also be used when multiple staff members want to access a single mailbox.
Shared mailboxes don't have their own "identity", so when staff send from a shared mailbox the sender is shown as themselves.
Mailboxes Delegation
Mailbox Delegation is used when one or more staff members want to get email from a single account, and send as that account. Things like order emails or support emails are commonly-used examples.
How to access them?
Via webmail
Login via https://outlook.office.com/
Select you name on the top right > Open another mailbox
Enter the email address of the other person
Using Outlook for Windows
If you're on a PC then close and re-open Outlook, and the account will appear.
Using Outlook for Mac
Go to the Outlook menu > Preferences > Accounts
Select your account
Click on Delegation and Sharing
Click on Shared With Me
Click on the

+

button (bottom left)
Enter the email address of the person who's mailbox you have access to, then Add
Done
Using Apple Mail for Mac
A shared mailbox can only be added to Mail for Mac as a normal Exchange account

The password will need to be known or reset

If this cannot be done or will be complex as it's for an employee who will return, then

Use Outlook for Mac (see procedure above)
Use Webmail (see procedure above)
So, your internet is playing up. You've run Speedtest, you've called your ISP, and still it's crawling along at a frustrating 5 Mbps (or slower!) - even at 3am!
Before you pull out your remaining strands of hair, go through our internet troubleshooting check list to make some sense of the situation and know where you stand.
As with all troubleshooting, there's a methodology, and the key thing is that you start from the inside and work your way out.
If the steps here don't work then give us a call, and we'll help from there.
Restart everything; your computer, the modem, everything - just because that's what IT people tell you what to do, and it sometimes works
Use multiple computers to test the wifi, in case one has a hardware issue
Connect a computer to your modem with an ethernet cable. You may need an ethernet adapter, as most laptops don't come with them these days

If ethernet doesn't work then it's your modem or service, so contact your internet service provider (ISP)
If ethernet works then the issue is your wifi, so continue the troubleshooting

If you're on a Mac then buy WiFi Explorer or get the free Wifi Explorer Lite from the App Store, and if you're on Windows then download Wifi Analyser, to examine the wifi network
There are 2 wifi network radio ranges

2.4 GHz: the older standard with slower speeds but longer reach, which tends to be crowded
5 GHz: the newer standard with faster speeds but shorter reach, which tends to be empty
NB: 5 GHz WiFi is not the same as the mobile 5G network

If the network is crowded

Change the wifi channel (this will need to be done on the modem)
Change to 5 GHz (and change the wifi channel there too, if needed)

If that doesn't work then move the modem to another location entirely
If all that doesn't work then it's likely a hardware issue
Domains, DNS (Domain Name Service), and hosting are the backbone of everything you see and do on the internet. Without these there is nothing. We explain what each of these do, in simple terms.
Domain
Your domain name is how you're identified on the internet. Examples include apple.com and netflix.com.
Domain names are purchased and periodically renewed (typically every year) via a registrar.
DNS
DNS (domain name service) is like your lisitng in a phone book, which lists your name, then shows your phone number and address.
DNS is the same for your domain. It tells computers where your emails and website can be found.
Hosting
Hosting is like your actual phone number or your physical house. This is where telephone calls go to and a map will take you.
There are several types of hosting, but email and web site hosting are the two most common types.
Exchange is ubiquitous for email hosting, and it enables the creation of shared calednars. Once your IT department has created a shared calendar you can follow these steps to add it to Outlook on your Mac.
In Outlook, go to Tools > Public Folders
Under your email address click on the folder which has been created by your IT department which houses the calendar
Select the calendar(s) shown in the folder
Click on Subscribe
The calendar will appear in the calendars part of Outlook, under "Subscribed Public Folders".
Windows Media (WMV) files is a video format developed by Microsoft. It doesn't play natively on Macs, so download and install VLC player to playback WMV and many other video formats.
3CX is a powerful, flexible PBX used across businesses. If you've recently moved to 3CX - especially from a clunky on-premise PBX - you will be impressed by it's features and the new ways it lets you work.
Yealink Handsets
We ship and support Yealink handsets. Shown below is the Yealink T46. Other handsets will vary in layout, but the buttons work the same.
Make a call
> dial number
> for speaker: press Send or OK
> for handset: pickup the handset
Answer a call
> for speaker: press OK
> for handset: pickup the handset
End a call
> press End Call or replace the handset
Mute (they can't hear you)
> press Mute
Hold (neither party can hear)
> press Hold to hold call
> press Resume to pickup call
Do Not Disturb (your phone won't ring)
> press DND
Transfer
> press Transfer
> dial number to transfer to
> press Send

3CX iOS & Android App
The 3CX app in included with 3CX, is the perfect companion to your handset. Use it when you're on the road or as a replacement for a desk phone.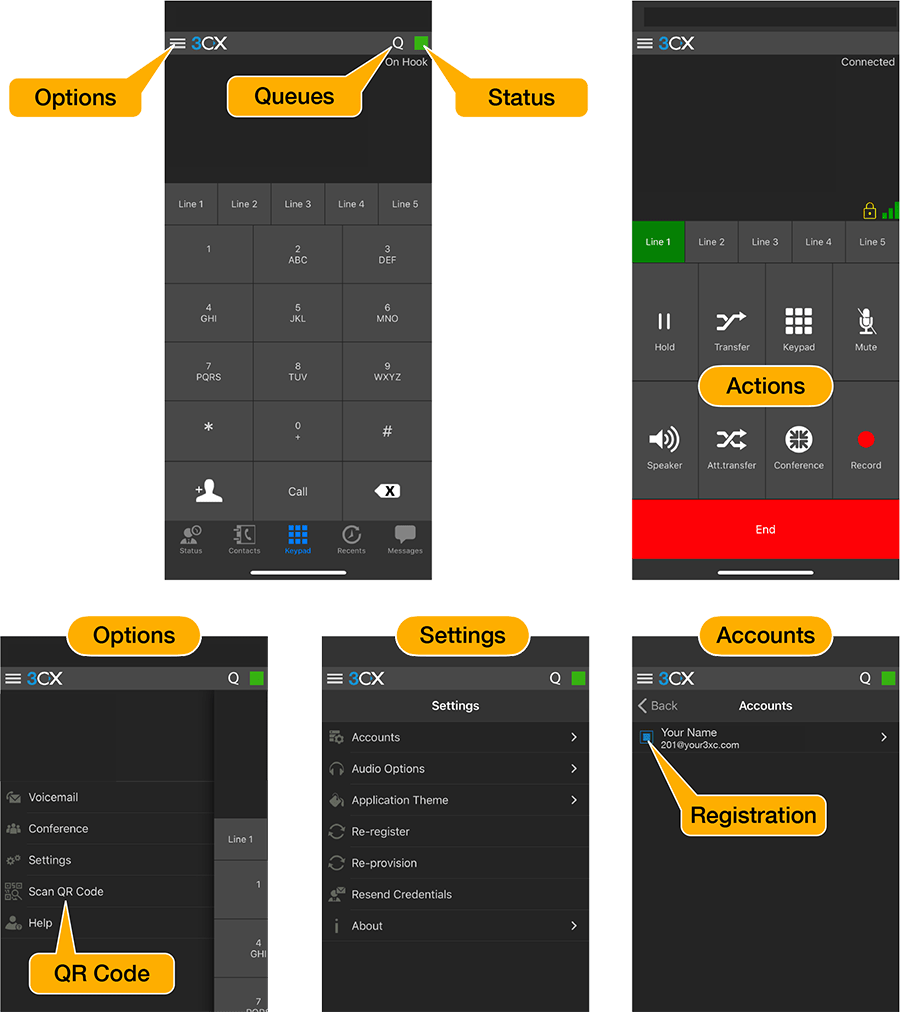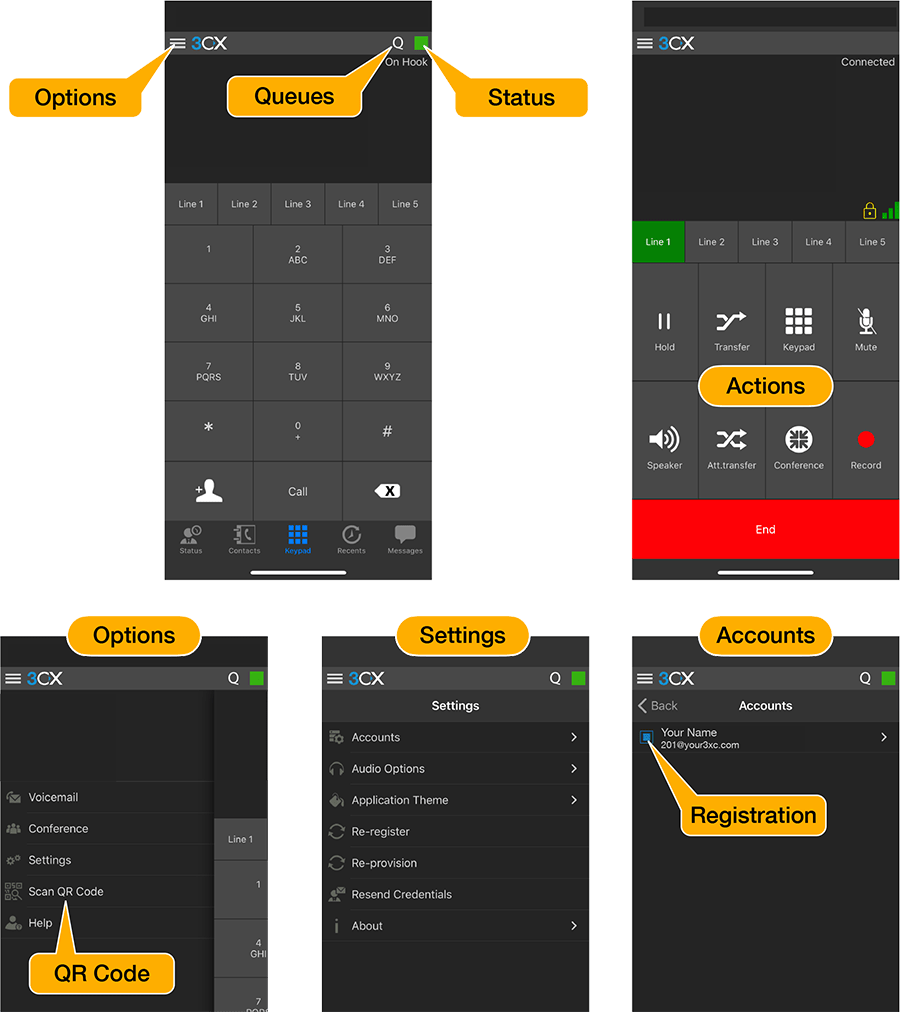 Setup
> download 3CX app (iPhone or Android)
> login to 3CX webclient (see email)
> allow access to mic, camera, address book
> scan QR code from webclient Settings
Incoming calls
> uses the same extension as your desk
> member of the same queues
Outgoing calls
> works exactly like your desk phone
> outgoing calls display your work number
> calls between extensions are free
Hold, transfer, mute
> these actions are available while on a call
Queues
> log in and out of queues with the Q button
> white: logged in
> grey: logged out
> this applies to all queues
Do not disturb (and other statuses)
> change your status with the Status button
> this changes your status everywhere
Unregister (when back at your desk)
> deactivate app when not needed
> options > settings > accounts
> check or uncheck the blue box
> the change will take a moment to register
Want more? Another great place to get information is the official 3CX quick reference guide to get your and your staff going.
Exchange can be overly-enthusiastic when marking mail as junk. You can train it to stop doing this:
Log into webmail: https://outlook.office.com
Select the email which has been marked as junk (it'll be in the junk email folder)
At the top you'll see "This message was identified as junk. We'll delete it after 30 days."
Click on "It's not junk"
This should have the effect of whitelisting the sender, so future emails shouldn't go to junk.